CEO, CFO and directors scooped up Olo Inc. (NYSE: OLO) after digital commerce company's shares dip
Shake Shack, Inc. founder and Olo director Danny Meyer bought 32,500 shares last week
Former Shopify Inc. CFO and Olo director Russell Jones exercised options to buy 53,813 shares
CEO Noah Glass and CFO Peter Benevides exercised combined options to buy 202,969 shares
Trading around $8, Olo shares now under 1/3 of $25 IPO price from March 2021
Olo has been Ebitda positive for years and continues to grow top line very quickly
Shares are reasonable at 3.6x 2023 consensus sales with earnings support
Enormous opportunity with Olo Pay which lets customers use Apple Pay and Google Pay
Customers like Nando's have seen surge in digital transactions, now signed up for Olo Pay
Wisely acquisition uses AI to profile patrons and help restauranteurs make better decisions
Very strong balance sheet with $465 million on hand, flexibility for opportunistic deals
These days, investors are quick to abandon growth companies at even the faintest sign of trouble. But in the case of restaurant-focused commerce platform Olo Inc., such a selloff presented a delicious opportunity.
At least, that's how the company's senior management and key board directors responded to a selloff in Olo shares last week, which tumbled following a modest reduction in sales guidance. While the company made clear the guidance shift was due to temporary bottlenecks in restaurant adoption because of COVID-related labor and food cost issues, many investors were spooked.
It would be wise to consider following the lead of insiders. Between CEO Noah Glass, CFO Peter Benevides along with directors Danny Meyer and Russell Jones, the group acquired nearly 300,000 shares. Mr. Meyer, a famous restauranteur and investor who founded Shake Shack and is Executive Chairman of Union Square Hospitality Group, has bought stock steadily since the March 2021 IPO and now owns nearly 1% of the company.  Mr. Jones's vote of confidence is also noteworthy as an e-commerce expert: He was formerly the CFO of Shopify.
The key to understanding Olo is that restaurants have barely began to embrace the full potential of digitization, with only 15% of transactions occurring digitally nationwide. And that means much more than delivery, also including on-premise transactions (both orders and now payment), drive-thru and takeout. Olo works throughout the restaurant to streamline processes and give staff more time to focus on talks that truly require a human touch.
Olo continues to drive revenue from both new relationships and the expansion of existing ones. Last quarter it named new customers including Freddy's Frozen Custard & Steakburgers, a fast casual restaurant with hundreds of locations. There are now roughly 82,000 restaurants on the Olo platform and many of them continue to add services such as upscale sports bar Twin Peaks and Whataburger, which expanded delivery enablement solutions while On the Border and Smokey Bones adopted front of house solutions.
Third party data show increasing awareness of Olo that bodes well for further restaurant adoption. Worldwide Google Trends data, for instance, show a steady climb in search for Olo over the last two years, according to Sentieo, an AI-enabled research platform.
Of course, some investors are concerned about the assumed loss of Subway as a client, which was announced earlier this year but will take some time for the locations to roll off. But Subway was only using one of Olo's services called Rails, which helps restaurants streamline orders from various third-party delivery platforms like DoorDash, Inc. and Waitr Holdings Inc. Other clients are embracing a much broader range of Olo's suite of services, which continues to expand.
Take Nando's, a fast casual restaurant. Nando's saw an incredible 600% increase in its on-premise digital orders per store in the first year it adopted Olo's Serve platform. The restaurant chain has also signed up for Olo Pay, a new offering that allows diners to pay quickly and easily on their phones using their preferred payment method such as Apple Pay or Google Pay.
With borderless Olo Pay, customers can use that same payment method at any restaurant in the Olo network. That has tremendous potential to drive sales by eliminating virtually all payment friction diners might experience on other platforms where they may repeatedly enter their credit card information every time they pay a bill.
Borderless, which launched as a trial in early July, has shown strong early results. Some 76% of guests saved their credit card information for future purchases, roughly 2.5x the average number of guests saving their cards on file.
Olo Pay is also very lucrative for Olo itself. A restaurant using both order and pay features drives 4x the revenue compared with an order-only client. Combined with the potential to serve 4x as many restaurants and 6.25x as many orders per location, Olo sees a 100x revenue opportunity.
What's more, Olo has made selective acquisitions to strengthen its offering even further. With the purchase of Wisely, Olo now is able to help clients recognize guests and their past purchases and habits – similar to a maître d' or bartender who is intimately familiar with a valuable "regular" at a restaurant. The data Wisely collects can do even more: Restaurants can use it to make decisions about when and where to open new locations.
Olo's business model should also withstand an economic downturn or even a recession. In the recent earnings call, Mr. Glass pointed out that in 2008-2009, consumers didn't actually start cooking more but instead switched to cheaper restaurants. Olo's customers are concentrated in the limited service, quick service and fast casual segments where diners may gravitate if times get tough.
The company's financial strength should also give investors comfort. Olo has been Ebitda positive for years and consensus expectations reflect that to continue in 2023 and beyond, according to Sentieo. It also has a healthy $465 million in cash on its balance sheet – providing safety and the potential to seek smart M&A opportunities down the road.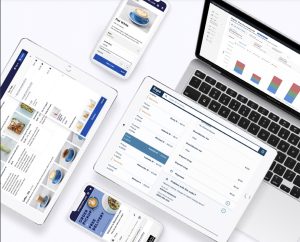 Importantly, the stock looks cheap compared to other companies with a similar growth profile. Olo trades at 3.6 times 2023 sales, according to Sentieo. Shopify, meanwhile, commands a multiple of 5.4 times.
With a combination of explosive growth potential, profits and a reasonable valuation, it's no wonder insiders have gobbled up more shares.  Investors who follow suit may soon taste sweet rewards.
Contact:
IPO-Edge.com
Editor@IPO-Edge.com
Instagram: @ipoedge
Twitter: @ipoedge