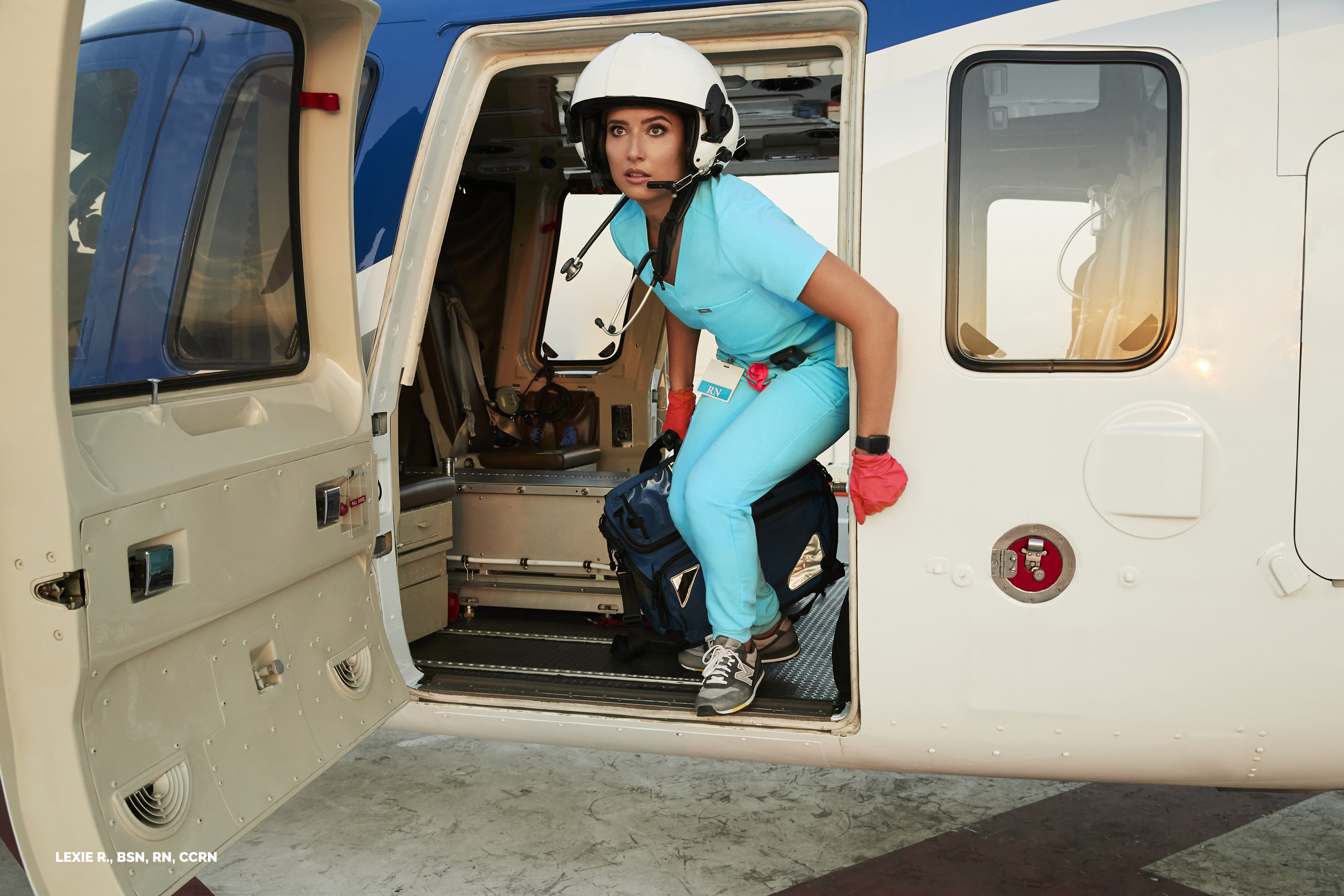 FIGS, Inc. (NYSE: FIGS) is a healthcare-apparel company that makes functional, fitted scrubs
Focused on product innovation with Salta Underscrub & Leggings, Montex Scrub Top and the 22-Pocket Pant
Gross margin very strong around 70%, supported by direct-to-consumer (DTC) model
TEAMS platform enables institutions to standardize in fragmented healthcare clothing industry
Ample room to continue expanding beyond core scrubs into more layers of apparel
FIGS is in 13 countries, with potential to reach about 118 million international healthcare professionals
Led by CEO Trina Spear, Harvard MBA graduate, who was previously at Blackstone Group, Citigroup
Spear recently doubled her stake in FIGS class A shares through large purchase
Expects mid-single-digit revenue growth in 2023, but likely to reaccelerate
Trades at just 9.3 times 2024 Ebitda, sharp discount to comparables like Lululemon Athletica Inc.
By Jarrett Banks and John Jannarone
During the COVID pandemic, many people banged on pots and pans outside their windows every evening to support first responders like doctors and nurses. But what many of those heroes really needed was functional, fitted scrubs.
Meet healthcare-apparel company FIGS, Inc. (NYSE: FIGS), which offers stylish scrubs for men and women made of its proprietary fabric FIONx, which provides four-way stretch and has anti-odor, anti-wrinkle and moisture-wicking properties.
The company was founded a decade ago and started with a simple concept: Tailor scrubs to fit better than the boxy, medical-supply version that previously were the only choice. Indeed, it was one set of custom-tailored scrubs that turned heads and inspired the launch of FIGS, which has become a standout in the fragmented healthcare clothing industry.
FIGS transformed the scrub industry into a consumer business, allowing medical professionals to choose products that suit them best. It's also a digital direct-to-consumer model, which helps FIGS command a healthy gross margin of roughly 70% and leans heavily on its digital capabilities.
FIGS continues to focus on innovation, introducing products such as the Salta Underscrub & Leggings, the Montex Scrub Top and the 22-Pocket Pant, among others. These products have been designed to serve the healthcare community on-shift and off-shift from head-to-toe.
Another big advantage: FIGS continues to get plenty of free marketing from loyal customers. Many of them post their favorite photos of FIGS products in action and the brand attracts followers on major social media platforms. On Instagram, for instance, @wearfigs has 831,000 followers.
View this post on Instagram
That translates to robust customer growth – at a reasonable cost. Active customers rose 22.5% from a year earlier in the fourth quarter. The company has said word-of-mouth is the number one driver of new customers.
FIGS is also reaching institutions that purchase scrubs and apparel on behalf of their entire staff. Such institutions account for about 15% of all medical professionals and naturally can make very large, regular orders.
FIGS reaches those institutions through its TEAMS platform, which provides an easy way to make standardized uniforms for staff members. The platform offers access to FIGS apparel, ease of adding logos, personalized embroidery and inclusive sizing.
While FIGS is an asset-light retail model, it sees value in some physical contact with customers. The company's first brick and mortar retail store is scheduled to open in Los Angeles' Century City Mall in 2023 and will let professionals experience products in person, contributing to brand awareness and more online purchases.
And there's more to the story than traditional scrubs. Sales in the non-scrub wear assortment, which includes various other layers, rose 39% in the fourth quarter to reach 21% of net revenues. Orders that included non-scrub wear delivered a 14% higher units per transaction than scrub wear-orders.
FIGS is constantly looking for more ways to expand its addressable market. The FIGSPRO line, for instance, is a polished and performance driven office-ready collection launched last year. It's designed for administrators and others who want a more refined, tailored look in their work environments.
Longer term, FIGS could expand into different industries where uniforms are the norm but haven't evolved over time. That could mean anywhere people need comfortable, flexible uniforms – from chemistry labs to marine environments to factory floors.
FIGS has also been expanding internationally, where it currently generates just 10% of sales. The company has distributed its products to 13 countries, including Canada, Australia, the UK, Germany, France, Ireland, Belgium, the Netherlands, Italy, Spain, New Zealand, UAE and Israel. In 2022, international net revenues grew by 50% as the company executed localized marketing strategies to optimize each market according to its customers' needs and preferences. FIGS believes it has the opportunity to reach approximately 118 million international healthcare professionals.
FIGS is also investing in infrastructure to enhance fulfillment, support scale, increase reliability, flexibility, speed to market and optimize the supply chain to support innovation and future growth. The company is also launching a retail strategy focused on creating community hubs to create a seamless, personalized shopping experience through its website and mobile app.
On the ESG side, FIGS is committed to advocacy and giving back to the healthcare community. The company has committed $500,000 to-date to build a new operation theater in Matibabu's hospital in Kenya and donated scrubs to the Boda Girls Initiatives, an organization whose mission is to provide women safe passage to and from hospital appointments in rural Kenya.
FIGS also has an impressive management team, led by Co-Founder and CEO Trina Spear, who was an associate with the Blackstone Group in the firm's hedge fund division and spent four years with Citigroup's investment banking and private equity divisions. She also completed her MBA at Harvard Business School. And COO Steve Berube brings serious industry experience, having served previously as Senior Vice President of Distribution and Logistics at Levi Strauss & Co.
In a strong vote of confidence, Ms. Spear recently more-than doubled her FIGS ownership with the purchase of 790,000 class A shares shortly after the company announced its full-year results, bringing her total holdings to 1.4 million shares. She also owns about 5 million class B shares which don't generally trade publicly.
Turning to financials, the company issued guidance for mid-single-digit revenue growth and an Ebitda margin of 11% to 12% in 2023. But both of those metrics understate the company's longer term strength and may themselves be conservative estimates.
Indeed, the company grew much faster during the COVID era and its inventory has temporarily expanded as demand normalized. The good news is that most of that inventory consists of core products that sell year in and year out, so there's not a terrible rush to slash prices on it.
The revenue forecast also looks well within reach. After all, the company continues to add active customers at healthy clip and any promotions should give sales an extra boost.
But even if 2023 isn't as strong as usual, the company's longer-term prospects remain robust. Both Ebitda margins and sales growth should return to levels at or near 20% as it moves through extra inventory, supply-chain issues alleviate and continues to capture more market share.
Analysts expect Ebitda to grow 41% in 2024 to $88 million, according to Sentieo, an AI-enabled research platform. That's a multiple of just 9.3 times compared with Lululemon at 16 times.
Importantly, FIGS has shown financial discipline and has a debt-free balance sheet. Given its healthy cash flow generation, the business should be able to carry on for many years on a self-funded basis even if it makes investments in growth.
With a major head start in a category ripe for disruption, FIGS has much more to achieve. Savvy investors should consider following Ms. Spear's lead and trying some FIGS shares on for size while the opportunity lasts.
Contact:
IPO-Edge.com
Editor@IPO-Edge.com
Instagram: @ipoedge
Twitter: @ipoedge