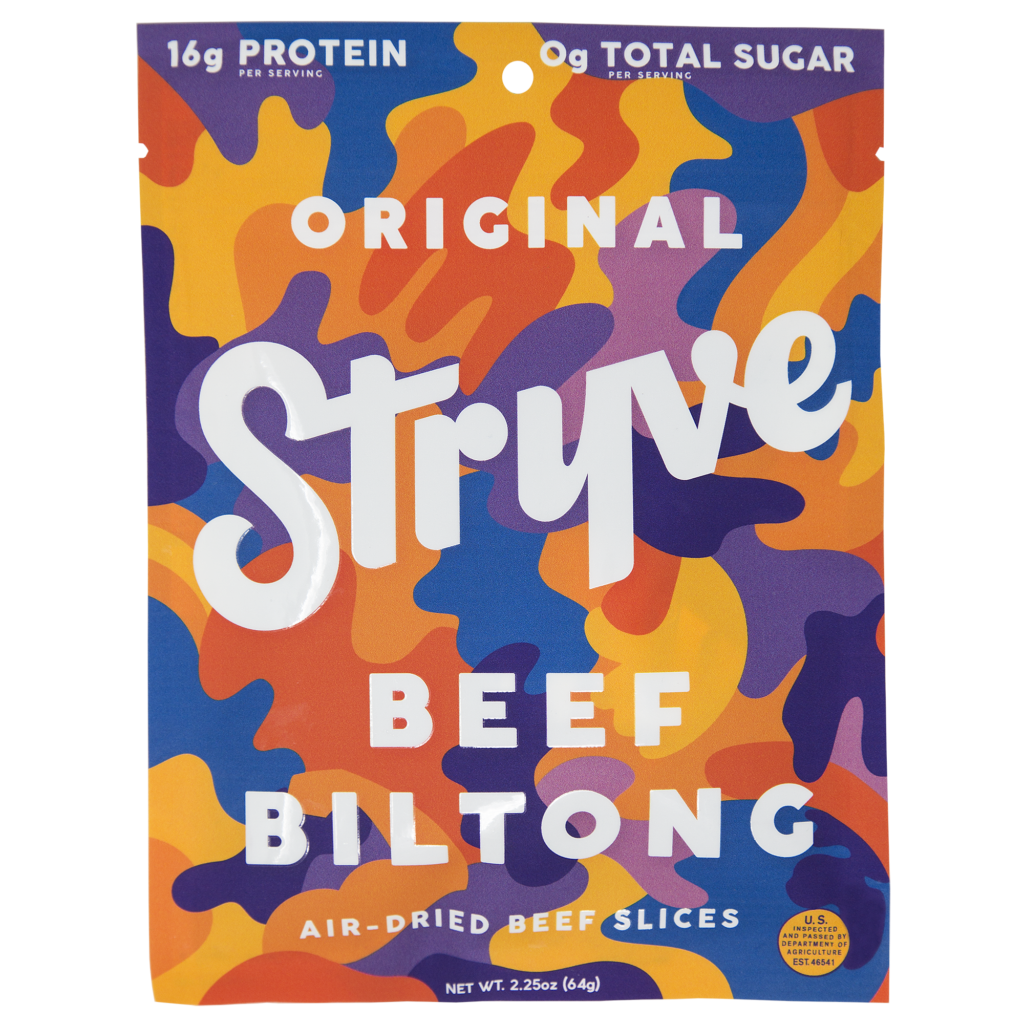 IPO Edge and The Palm Beach Hedge Fund Association will host a fireside chat with Stryve Foods LLC Thursday, July 8 at 2pm ET to discuss going public and what differentiates the company from other snacking startups. The live event will feature Stryve Co-Founder & Co-CEO Joe Oblas, Co-CEO & CMO Jaxie Alt, and COO & CFO Alex Hawkins, joined by IPO Edge Editor-in-Chief John Jannarone. The moderated video session will last approximately 60 minutes and include a Q&A with the audience.
To register, CLICK HERE
Stryve Foods specializes in air-dried meat that fits ideally in a healthy diet. The company is going public by merging with Andina Acquisition Corp. III (Nasdaq: ANDA), a special purpose acquisition corporation or SPAC, that raised money to find a target. Investors including actor Channing Tatum, Los Angeles Chargers quarterback Justin Herbert, as well as institutions, have poured $42.5 million into the transaction, which is set to close in the second quarter. Investors who buy ANDA shares now will see them convert automatically to shares in the newly-formed company, which will then trade under a new ticker: SNAX.
Oblas, Alt, and Hawkins will discuss:
How is Stryve different from other snacking startups
Air dried meat and biltong
Leadership team
Going public via SPAC
Vertical integration, investments
Brand awareness, channel mix, distribution
Potential M&A
About the Speakers:
Joe Oblas is Stryve's co-Founder and has served as its co-Chief Executive Officer and Director since November 2017. Prior to founding Stryve, Mr. Oblas was the co-founder, Chief Operating Officer and Director of ProSupps USA, a successful sports nutrition brand, from November 2007 until December 2016. Prior to ProSupps, Mr. Oblas co-founded Juice Stop, a smoothie company, which he grew to 150 stores in 22 states.
Jaxie Alt has served as Co-Chief Executive Officer of Stryve since January 2020 and Chief Marketing Officer of Stryve since March 2019. From October 2018 through March 2019, Ms. Alt served as the founding member of Meaningful Partners and founder and CEO of Altitude Growth Advisors. Previously, she worked in various positions at Dr Pepper Snapple Group since January 2001, serving at its Exec Vice President and Chief People Officer from July 2017 to July 2018 and its co-Chief Marketing Officer and Senior Vice President from January 2014 through July 2017. Ms. Alt holds a BA in Communication Studies from the University of California Los Angeles and an MBA with a marketing specialization from the University of Texas.
Alex Hawkins has served as Stryve's Chief Operating Officer since October 2019 and its Interim Chief Financial Officer from October 2020 until February 2021. Prior to joining Stryve, Mr. Hawkins served as a Principal at Rosewood Private Investments, the private equity division of Rosewood Corporation, from 2012 through 2019. He worked in J.P. Morgan's Private Bank from 2010 through 2012 and before then worked for APQC from 2008 to 2010. Mr. Hawkins holds a BBA in Finance with a minor in Economics and specialization in International Business from Texas A&M University and is a CFA Charterholder.
IPO Edge Contact:
Jarrett Banks, Editor-at-Large
Twitter: @IPOEdge
Instagram: @IPOEdge