– Local Bounti (NYSE: LOCL) is an "agtech" operator focusing sustainable production, delivery of fresh produce
– Went public through SPAC last year; PIPE investors included Cargill Inc., still involved on debt side
– $30 bln TAM for U.S. vegetables and herbs by 2025
– Uses proprietary hybrid vertical farming and greenhouse model called Stack & Flow
– Greens grown without any soil, pesticides, fungicides or herbicides
– Purchase of Pete's expands reach of greenhouse-grown produce; customers include Walmart, Kroger, Albertsons, Target
– Scope to expand Pete's capacity by 35%, suggesting revenue can reach $40 mln/yr soon
By Jarrett Banks and John Jannarone
Traditional outdoor farming has been bad for the planet in terms of greenhouse gas emissions, as well as damage to the environment and wildlife. But until recently, no one had been able to crack the code on making environmentally-friendly indoor farming profitable.
Meet Local Bounti (NYSE: LOCL), which focuses on the sustainable production and delivery of fresh produce. Founded in 2018 by co-CEOs Craig Hurlbert and Travis Joyner, the company uses proprietary technology to grow leafy greens such as romaine and butter lettuce along with herbs like cilantro and basil using 90% less land and water than traditional agricultural methods – all without pesticides or herbicides.
Vertical farming has high yields but is very costly, while indoor greenhouses generate lower yields at a lower cost. The Hamilton, Montana-based company uses a combination of vertical farming and greenhouses—which it calls Stack & Flow Technology—that it can "bolt on" to acquisitions. And with a $30 billion dollar total addressable market for vegetables and herbs in the U.S. by 2025, the future is looking bright.
Local Bounti is one of the few startups that went public via SPAC last year that exceeded its 2021 revenue projections, in addition to boasting an impressive 32% gross margin. The company raised $125 million via a private investment in public equity, or PIPE, from major investors including agriculture giant Cargill Inc., which is providing $200 million in debt financing. With such backing, the company's finances are on strong footing as it starts greenfield construction projects.
And now, with this month's purchase of farming peer Pete's for $122.5 million, the company is poised to expand distribution to major food retailers such as Walmart, Kroger, Albertsons and Target.
Indeed, the company will see a roughly 20x increase in its sales footprint overnight. Pete's, based in Carpinteria, California, sells at roughly 10,000 retail locations across 35 states and provinces in the U.S. and Canada. Local Bounti's lettuce and herbs are currently distributed at 500 locations in nine states. The acquisition is also cementing its position in controlled environment agriculture (CEA) by giving it more greenhouses.
The Pete's deal is financially compelling. It already generates run-rate revenue of more than $30 million – giving the combined company a big jump start. What's more, there is scope to expand Pete's capacity by at least 35%, suggesting revenue can soon reach well over $40 million a year.
And Pete's is highly profitable, with a gross margin of more-than 45%. While the company didn't disclose Ebitda margins, it is Ebitda positive. IPO Edge conservatively estimates a margin of 20%, suggesting $8 million of Ebitda. Assuming modest cost synergies, Pete's effective Ebitda is roughly $10 million – indicating Local Bounti paid a reasonable 12x Ebitda for the business.
And investors who buy shares of Local Bounti now are also getting a deal. Adjusted for the acquisition, which leaves the company with about $15.5 million of net debt, Local Bounti trades an enterprise value of $765 million, or just 1.7 times 2025 sales.
The deal will be immediately accretive. Local Bounti has 12 of its own greenhouses and will gain three more from the merger, including one under construction. The company plans on utilizing Pete's growing practices within its future facilities including its Pasco, Washington facility that is under construction.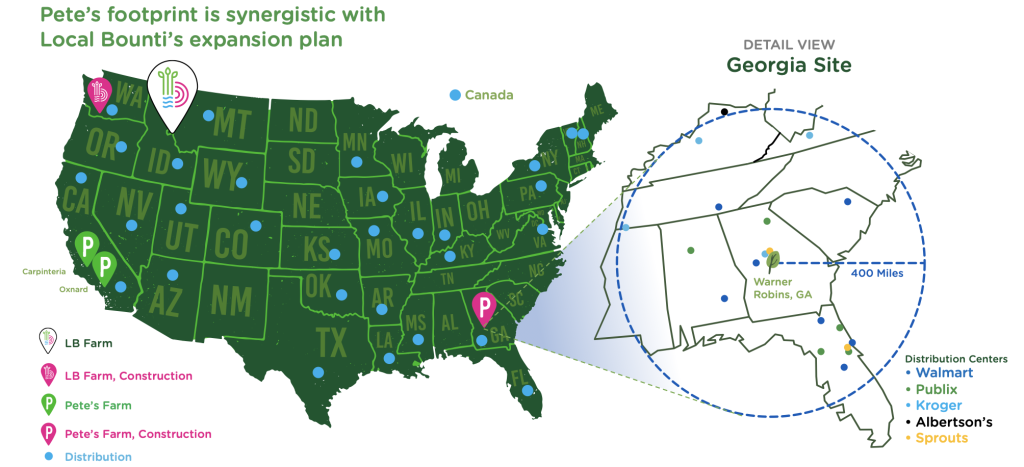 Local Bounti intends to co-develop the brands under a multi-brand strategy, with Pete's positioned as a premium offering to the traditionally grown produce and Local Bounti positioned as an above-premium local product.
The company also bolstered its leadership ranks last year, adding Kathleen Valiasek as chief financial officer and former Beyond Meat Inc. CFO Mark Nelson to its board. Co-CEO Craig Hurlbert has an energy background—having worked at General Electric and North American Energy Services—that has served him well in agtech because both are capital intensive, commodity-based businesses.
While there are no immediate plans to move beyond leafy greens, the time could come down the road and there is certainly opportunity to license its technology to major agriculture players and it already has several patents pending. There's also the potential for more M&A, including distressed agtech assets.
With a mission to 'bring our farm to your kitchen in the fewest food miles possible,' Local Bounti is disrupting the cultivation and delivery of produce. The company is also bolstering its ESG credentials by giving back to each of the communities it serves.
Local Bounti has a clear vision ahead with plans for international expansion, a subscription based service, new products and segments, as well as franchising and licensing. For the consumer, the brand recognition isn't there yet for leafy greens—something that the company sees as an opportunity.
With the acquisition of Pete's, Local Bounti is demonstrating its unit economics focus, while enabling rapid scale in a capital efficient way. Bottom line: Pete's de-risks the entire business and is good for the planet—something that investors will want to take a bite out of.
(Updates patent information in 13th paragraph.)
Contact:
Jarrett Banks, Editor-at-Large
Twitter: @IPOEdge
Instagram: @IPOEdge