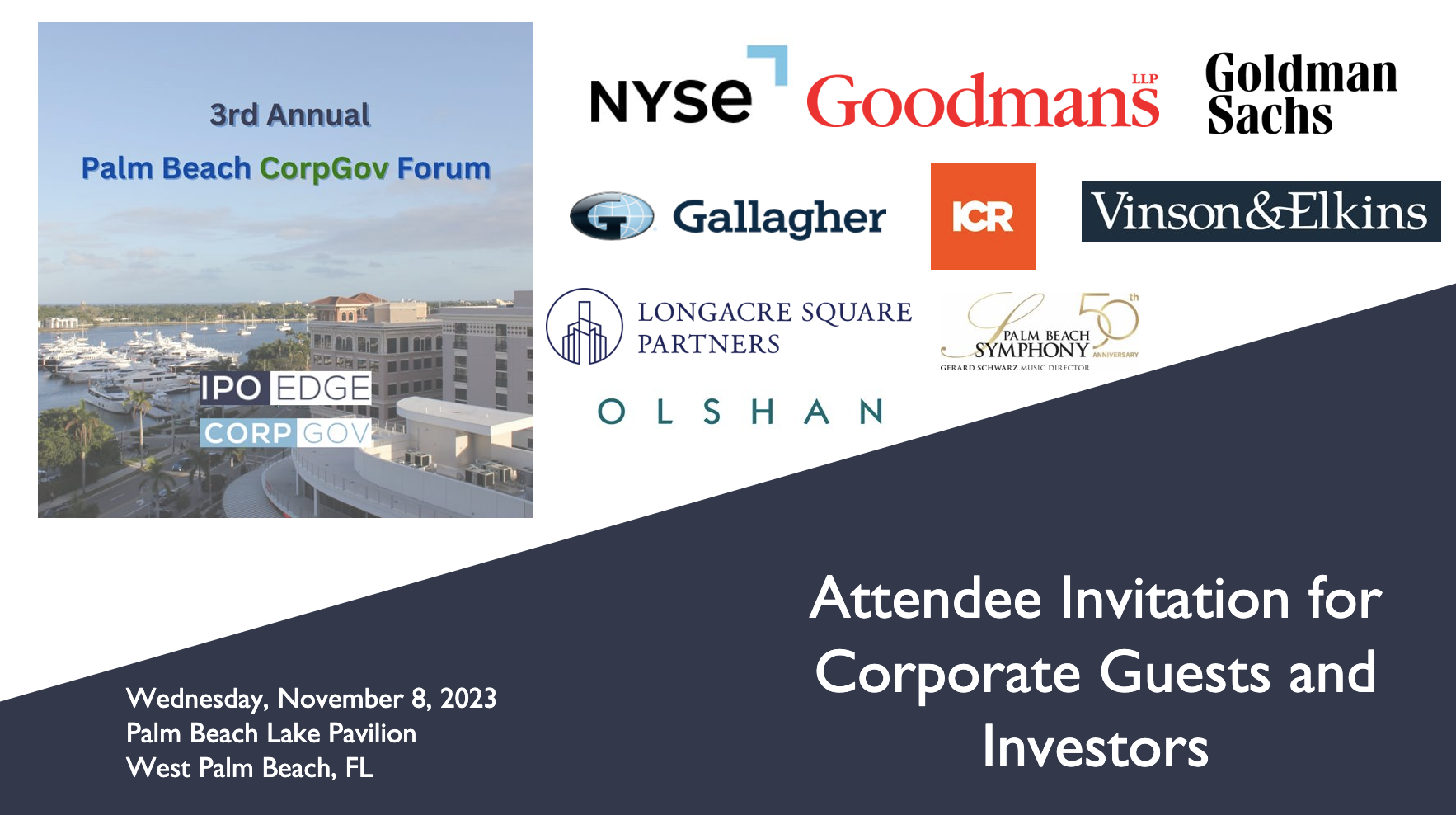 The third annual Palm Beach CorpGov Forum will held on Wednesday, November 8, for a full day event at the Palm Beach Lake Pavilion, located waterfront with sweeping views of Palm Beach Island. The Forum will feature panels, firesides and a performance by a Palm Beach Symphony ensemble, followed by a reception at Cucina Palm Beach.​ The audience will be comprised of 200 attendees including public and private corporations, private equity and VC funds, institutions, family offices, attorneys, investment bankers, other key advisors and select media.
CLICK HERE TO REQUEST AN INVITATION
For sponsorship or media enquiries, email Editor@CorpGov.com 
Thank You Partners
Topics include:​
Shareholder activism

​

Contested M&A

​

IPO windows 

IPO readiness​

ESG in marketing and communication

​

Industry panels: Healthcare, AI+Green Energy and

Media
Guests will enjoy a lunchtime vignette by a string instrumental ensemble of Palm Beach Symphony and will be invited to a reception on the evening of Wednesday, November 8 at Cucina Palm Beach. ​
Preliminary List of Speakers:
Lawrence Elbaum, Partner, Co-Head of Activism Defense, Vinson & Elkins ​
Ramey Layne, Partner, Capital Markets and M&A, Vinson & Elkins​
Tara Dziedzic, Head of Listings – US Sectors, NYSE​
Joseph C. Semsar, Regional Head, East Coast Capital Markets, NYSE​
Jonathan Feldman, Partner, Mergers & Acquisitions, Goodmans LLP
Michael Partridge, Partner, Mergers & Acquisitions, Goodmans LLP​​
Rafique Jiwani, Vice President, GS Value Accelerator, Goldman Sachs​
Emma Sissman, Vice President, Impact Investing, Goldman Sachs​
Andrew Freedman, Partner, Co-Head Activist & Equity Investment Group, Olshan Frome Wolosky LLP​
Ira Gorsky,  Executive Vice President, Edelman Smithfield​
Joseph J. Mills, Senior Partner, Saratoga Proxy Consulting​
John J. Ferguson, Senior Partner, Saratoga Proxy Consulting​
Chistopher Ludwig, Managing Director, Shareholder Advisory, Mergers & Acquisitions, Barclays​
John Marchisi, National Director, SPAC Segment, Gallagher​
Bruce Goldfarb, President and CEO, Okapi Partners​
Shari Mager, Partner, National Capital Markets Readiness Leader, KPMG​
Richard Kane, Chairman and CEO, Verijet
Robert Maxwell, Founder, Chief Executive Officer at ClinConnect
Don Duffy, President, ICR ​
Anton Nicholas, Managing Partner, ICR​
Ashley DeSimone, Partner, Co-Head Media, Sports & Entertainment, ICR ​
Terri Clevenger, Partner, Healthcare, ICR ​
Daniel Newman, CEO, The Futurum Group​
Niccolo de Masi, CEO, dMY Technology (director of NYSE listed: RSI, GENI, IONQ, PL, DMYY) ​
Jay Jackson, CEO, Abacus Life, Inc. (Nasdaq: ABL)​
Charles Gradante, Co-Founder, Hennessee Group LLC​
Adam Kommel, Senior Activism Analyst, Bloomberg LP​
Keith Rosenbloom, Founder, Cruiser Capital​
Greg Marose, Managing Partner, Longacre Square ​
Charlotte Kiaie, Partner, Longacre Square ​
Michael W. Robinson, Chairman and CEO of The Montgomery Strategies Group, former Chief Spokesman & Policy Director at the Securities and Exchange Commission (SEC) ​
Jordan Kovler, Managing Director, Harkins Kovler ​
John Grau, President, InvestorCom ​
Dan Zacchei, Managing Partner, Longacre Square ​
Jarrett Banks, Editor-at-Large, CorpGov and IPO Edge (Moderator)​
John Jannarone, Editor-in-Chief, CorpGov and IPO Edge (MC)
Contact:
John Jannarone
Editor-in-Chief