Move provides Atonix added flexibility, agility as the need for data-driven operational intelligence grows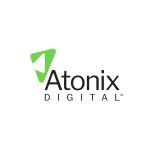 OVERLAND PARK, Kan.–(BUSINESS WIRE)–Three years since its launch as a software developer providing innovative, data-driven analytics solutions to clients, Atonix Digital™ LLC announces the completion of its spin-off from Black & Veatch. The move enhances its flexibility and optimizes the company to pursue clients across the growing digital infrastructure economy.
As a freestanding entity, Atonix Digital will function as a true software company, enabling additional flexibility to pursue new and emerging markets, give clients more tailored solutions and accelerate its ability to meet the growing demands for software and operational intelligence solutions. Spinning off Atonix also supports Black & Veatch's business strategy to actively manage its portfolio of assets, as well as incubate and develop new entities that will service the infrastructure market and beyond.
"We've been steadfast in pushing the limits of operational intelligence to help proactive clients manage power, water and communications resources along with a broad array of industry verticals, and we remain committed to that," said Paul McRoberts, Atonix Digital's president. "We're excited about the opportunity and flexibility this spinoff provides in pursuing new and emerging solutions that take the guesswork out of managing their asset performance."
Effective this month, Atonix Digital is moving forward under a new ownership structure led by members of its existing management team. The move follows a three-year effort to extend its network of partners who are reselling its cutting-edge line of performance management products, broadening Atonix's reach into such markets as the food and beverage industry, consumer products, pharmaceuticals, and petroleum and chemical processing.
"Digital monitoring and diagnostic solutions and the data analytics they inform remain vital to advanced infrastructure solutions," added McRoberts. "Atonix is a strong brand in the asset performance management software market and we are poised to continue thriving by helping enterprises get the most out of their infrastructures assets."
Editor's Notes:
For more details about Atonix Digital, click here.
About Atonix
Atonix Digital develops and offers a portfolio of products that help simplify asset management by putting your data to work – to optimize performance, improve reliability and efficiency, detect emerging risks and provide an easily justifiable return on your investment.. Visit www.atonix.com for more information.
Contacts
Media Contact Information:
JIM SUHR | +1 913-458-6995 P | +1 314-422-6927 M | SuhrJ@BV.com
24-HOUR MEDIA HOTLINE | +1 866-496-9149