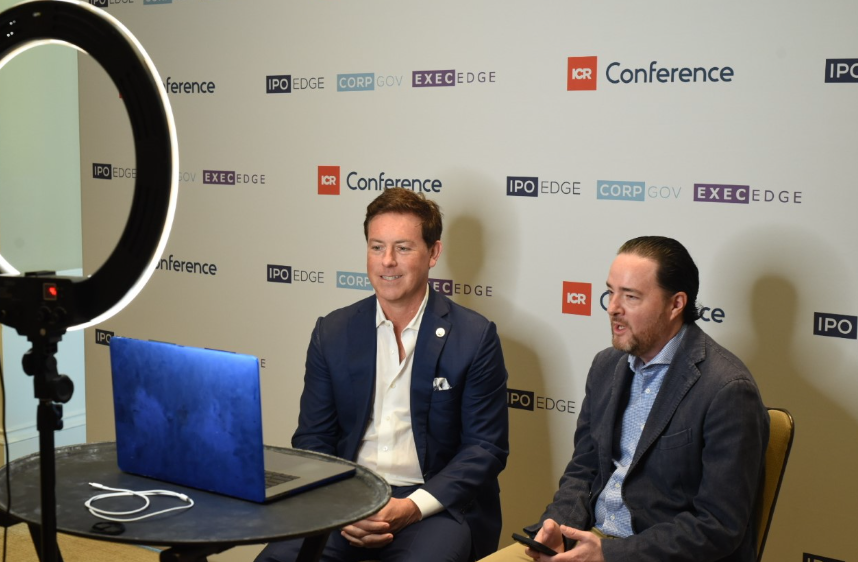 IPO Edge hosted a fireside chat at the 2023 ICR Conference with the CEO of Us. Polo Association local licensing, a for-profit corporation running the Us. Polo ASSN. brand. The in-person interview featured CEO Michael Prince joined by IPO Edge Editor-in-Chief John Jannarone and Editor-at-Large Jarrett Banks. Watch the full recording below:
About USPA:
The sport of polo is a team sport unlike any other that showcases the powerful bond between the player and their equine partner. One of the oldest team sports, every game is an exhilarating display of horsepower, athleticism and control. The United States Polo Association® is the official governing body of the sport of polo in the United States. Founded in 1890, the USPA promotes the game of polo and coordinates the activities of its member clubs and registered players.
The sport of polo inspires a way of life characterized not only by its competitive players, but also by the classic, high-quality style of the clothing they wear. The U.S. Polo Assn. brand speaks to what is authentic about the sport, honors the tradition of polo and fosters an inclusive environment, where everyone is invited to be a part of this extraordinary sport.
About CEO, Michael Prince
J. Michael Prince is President & Chief Executive Officer of USPA Global Licensing Inc. (USPAGL), the official licensor and broadcaster for the United States Polo Association (USPA). Michael provides executive leadership overseeing the USPA's iconic sport-inspired U.S. Polo Assn. brand, which has a nearly $2 billion global footprint and is represented across 194 countries worldwide. He also oversees the Company's 1,200 global retail stores, digital commerce, global partnerships, as well as operational and financial management.
Additionally, Michael supports the Company's global broadcasting business, Global Polo Entertainment (GPE), that showcases high-profile polo games reaching over 7 million viewers worldwide through multiple content platforms, including ESPN. Ranked the 5th largest global sports licensor and 38th overall licensor in License Global magazine's 2020 list of "Top 150 Global Licensors," U.S. Polo Assn. ranks alongside such iconic sports brands as the National Football League, the National Basketball Association and Major League Baseball. Michael and U.S. Polo Assn. have been featured in WWD, Fast Company, Forbes, Entrepreneur, Palm Beach Illustrated, Modern Luxury, Coastal Lifestyle, Retail & Leisure International, Polo & Lifestyle, Chain Store Age and on MSN, Yahoo Finance, Fox Business, TD Ameritrade, and Cheddar TV. He has also been a guest on a variety of leading business and industry podcasts.
With a diverse and distinguished career in retail, Michael has held leadership roles at some of the top sport and lifestyle brands in the world. He served as President & COO and Board Member at Cole Haan and prior to that as Chief Operating Officer of Guess Inc. Michael joined Guess Inc. from Nike, Inc., where he held various roles including Chief Financial Officer of Converse, Inc., a Nike subsidiary and Chief Financial Officer of the Nike Affiliates division. Michael received his bachelor's degree from East Central University and his master's degree from Duke University's Fuqua School of Business. He currently resides on the Board at Fuqua and is a member of the Finance Committee.
Michael established a scholarship for Fuqua and is one of the signature sponsors for Duke's Annual Art Basel event held in Miami, recognized as one of the largest global influencer and Duke sponsored events in the world. Active within his local and global communities, Michael has been a judge for the Retail & Leisure International (RLI) Awards. RLI unites executives from retail and parallel industries to create and debate the future of commerce. Michael also serves as Treasurer on the Business Development Board of Palm Beach County. USPOLOASSNGLOBAL.COM @USPOLOASSN, @GLOBALPOLO
Contact:
IPO Edge
www.IPO-Edge.com
Editor@ipo-edge.com