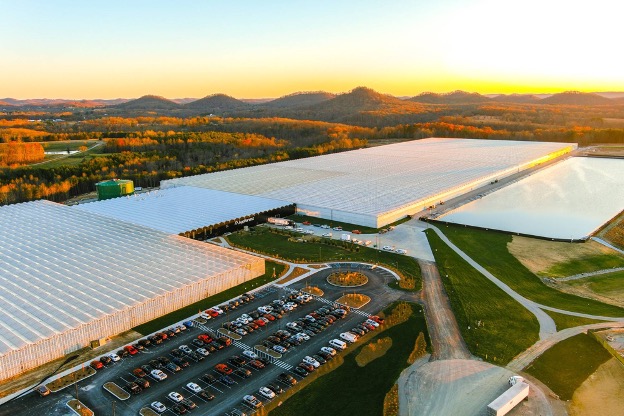 By IPO Edge Editorial Staff
Thanks to humankind's trampling, barbarism, and consumption of Earth's finite resources, capitalism and Mother Nature simply don't mix. Big industrial buildings billow toxic chemicals into the air, causing climate change. Studies have found that since 1988, 100 corporations have been responsible for 70% of greenhouse gas emissions. It's hard to imagine that the same economic philosophy found in capitalism would ever take root in trying to preserve Earth. Yet one organization, AppHarvest, abides by that ethos. In February, AppHarvest (NASDAQ: APPH), an AgTech company known for its futuristic, eco-friendly greenhouse that employs AI robots to pick its towering tomato crops, debuted its IPO, raising $475 million.
In Morehead, Kentucky, AppHarvest's headquarters, capitalism and Mother Nature, are, indeed, mixing really, really well.
"We can use private-sector capital to rebuild this world," says AppHarvest's Founder and CEO Jonathan Webb. "We can't just demonize the systems in place. We need to use them …This generation has got to be the one of action and less talk at this point. There's nothing to talk about anymore. Just do it."
Food and agriculture contribute to the ever-growing climate change problem. According to CNN, food production accounts for a third of greenhouse gases, 80% of deforestation, 70% of terrestrial biodiversity loss, and 70% of all freshwater use. Yet mankind must eat to continue to exist and thrive. What's the solution to feeding the world without contributing to its demise?
"Wall Street's a tool," said Webb in a Wired interview. "The private sector can be a part of solving all these people and planet issues." While using the tool that originally caused the bulk of the problem seems counter-intuitive, Webb argues there simply isn't enough time to implement a new system. "We don't have time anymore. We know Wall Street can deploy billions of dollars of capital as efficiently as human civilization has ever seen. So how do we build business models that align with people on the planet so we can go grab capital, put companies in place, and give consumers a product at an affordable price?"
AppHarvest believes the solution to the problem can be found in their "data-driven farms" that are working on AI technology to predict better and stronger harvests. AppHarvest's first-ever farm in Webb's native Kentucky is a 60-acre facility that grows 40 million pounds of tomatoes each year—without using soil. Instead, LED lights and a growing medium that allows the tomato roots to collect water and nutrients help raise this massive crop.
When it comes to water, AppHarvest relies on sustainable sources: rainfall. The company only uses rainwater distributed through a closed-loop irrigation system, preventing agricultural runoff and waste. This procedure solves the problem that agriculture presents by reducing water usage by up to 90%.
Josh Lessing, AppHarvest's chief technology officer, said, "Building technology to forecast, steer the crop, and create more stability in the food supply allows us to grow locally and better control our food destiny. That's the real opportunity with robotics and AI."
Controlling our "food destiny" could help close a Pandora's box of environmental problems. Oxford scientist Tim Palmer said recently, "if we do not halt our emissions soon, our future climate could well become some kind of hell on Earth." With the number of emissions rising, the world will soon reach an average of 1.5 degrees Celsius higher than preindustrial levels in 20 years or less.
The human population is growing at a breakneck pace. Every year, it expands by 1.1%. Demands for more food and other essentials continue to rise. With agriculture causing as many problems as it does to the climate, how can mankind continue to grow without hurting the Earth?
Webb said, "You look at basic pillars of human life, and it's water, it's energy, and it's food, and if you don't have those, you don't have a society. They're not nice to have; they're absolutely essential basic necessities that we must all ensure and protect."
Small farms that focus on sustainable practices but still rely on the soil provide good produce but might not be able to feed the massive demand for fruits and vegetables at an affordable price. Without involving members of Wall Street or investors, it becomes difficult to keep up with demand for a small business.
However, Webb says scalability doesn't have to cost a business a fortune, nor does it have to price the average consumer out of buying fresh vegetables. "Our obligation as a sustainable community is to focus on the 95% hard-working Americans that will want to be a part of these solutions, but they don't have the opportunity to pay for it. It is critical. It is our job to make this affordable," said Webb.
CEOs and major investors don't have to buy into the message or the mission if they believe the project will grow and provide a profit over time. "One way to motivate these CEOs … we'll show them a clear path that they either make more money through implementing [Environmental Social and Governance criteria] or their company is on a fast track going straight underground… That's just the way we're going to have to operate," argued Webb.
And AppHarvest plans on growing and developing in their own unique way. The company plans to build a network of high-tech greenhouses that are capable of growing with the demand.
Contact:
Editor@RegAResearch.com