By John Jannarone and Jarrett Banks
Sprinting out of the gate following its New York IPO, Swiss running-shoe and apparel phenom On Holding AG (NYSE: ONON) topped forecasts and its Co-CEO said this is only the beginning of the journey.
The Zurich-based company, which counts Swiss tennis legend Roger Federer as both a brand partner and investor, reported record third-quarter net sales of CHF 218 million ($236 million). That reflects a 68% rise and easily exceeded a consensus estimate of CHF 183 million, driven by improvements across channels. The direct-to-consumer (DTC) business was especially strong, growing 93% during the quarter.
It was an early indication of post-pandemic success for On, whose product line began a decade ago with a prototype running shoe but has expanded to include other footwear such as Mr. Federer's "THE ROGER" tennis shoe collection and apparel such as parkas and merino wool beanies.
"I feel that the third quarter is a very good proof point for the journey exiting the pandemic,"  Co-CEO and CFO Martin Hoffmann told IPO Edge in an interview. "It's a very positive result out of the pandemic – not that we had slowed down."
Indeed, the company posted 77% sales growth for the first nine months of the year, which included periods of significant lockdowns and restrained in-person shopping habits in some parts of the world. The robust performance also comes despite supply chain issues that face companies with factory production – especially those with international footprints.
For the full year of 2021, the company expects revenue to rise 67% to CHF 710 million. Ebitda is forecast to grow even faster, by 85% to CHF 92 million. 2022 net sales are expected to be at least CHF 960 million while Ebitda is seen at CHF 125 million.
Despite its young age, On has found success in countries globally and established serious brand power. The company is in 60 markets and counting – all of which continue to grow.
"Our Swiss heritage helped us," Mr. Hoffmann said. "Very early we had to go abroad to grow. We see strong demand wherever we show up."
On has taken a thoughtful approach to growth in foreign markets. In China, for instance, its country head is a Swiss woman but she speaks fluent Mandarin.
China already has been a very successful market for On. On Singles Day, November 11, the company saw a 5-fold sales increase from a year earlier.
The company also is very profitable and continues to improve margins. It posted Ebitda of CHF 37.9 million in the quarter, when gross margins improved to 60.2% from 54.5%.
Mr. Hoffman pointed out that while the DTC business was extremely strong, all sales are important and can be complementary. "We aren't DTC first," he said. "Both channels are equally important."
He explained that customers who discover the brand in a physical store often make subsequent purchases online. But those who start online often wind up viewing products in person at retailers for their next purchases.
The company's wholesale strategy includes a variety of retail partners who focus on either technical performance or fashion and luxury. That has led the company to sell through the likes of Nordstrom and REI.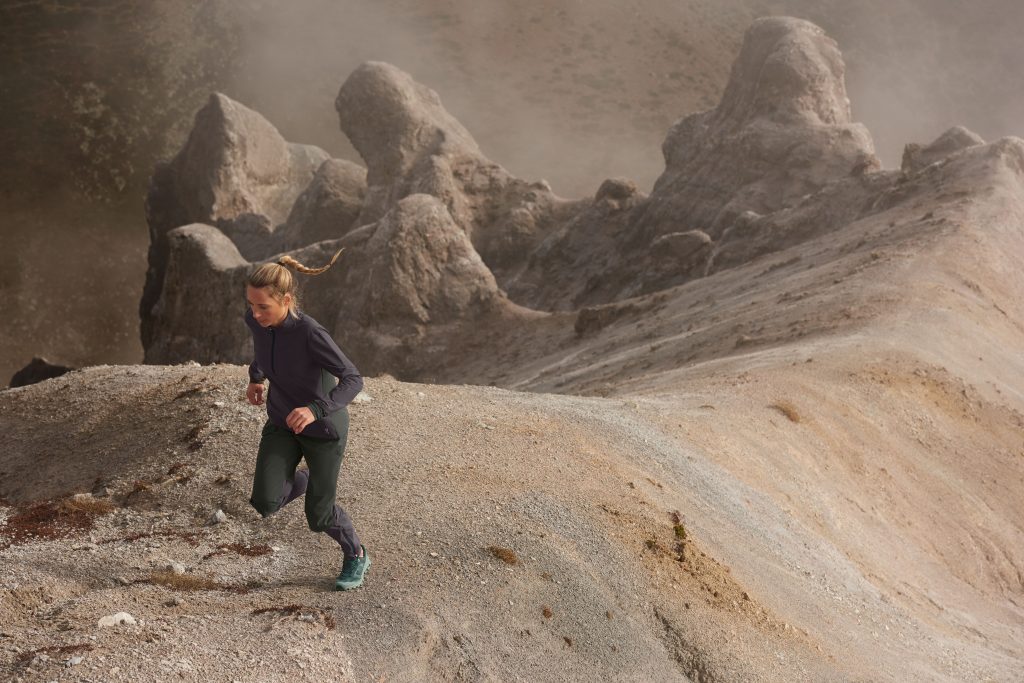 That contrasts with a company like Lululemon, which focuses on its own stores and website sales. While Lululemon has been successful, On may be able to build its brand power faster by partnering with retailers.
And while Lululemon managed to branch out from yoga, On is likely better positioned to expand. After all, running is a sport with a far larger following than yoga where Lululemon began.
"We have a loyal customer base but we are also winning new people," he said. The company builds awareness through partnerships such as the one with Mr. Federer and by becoming the official outfitter for the Swiss Olympic and Paralympic teams.
The company also boasts strong ESG credentials. It recently announced a new foam used in shoes called CleanCloud, which is produced using carbon emissions as a raw material. That innovation is part of an ongoing move away from petroleum-based resources over the mid-term. On is the first footwear company to explore such an approach, which should get the attention of investors who focus on sustainability.
As shown above in a chart from Sentieo, an AI-enabled research platform, traffic to On's website continues to surge, as measured by Alexa data. That suggests On shares still have plenty of room to run.