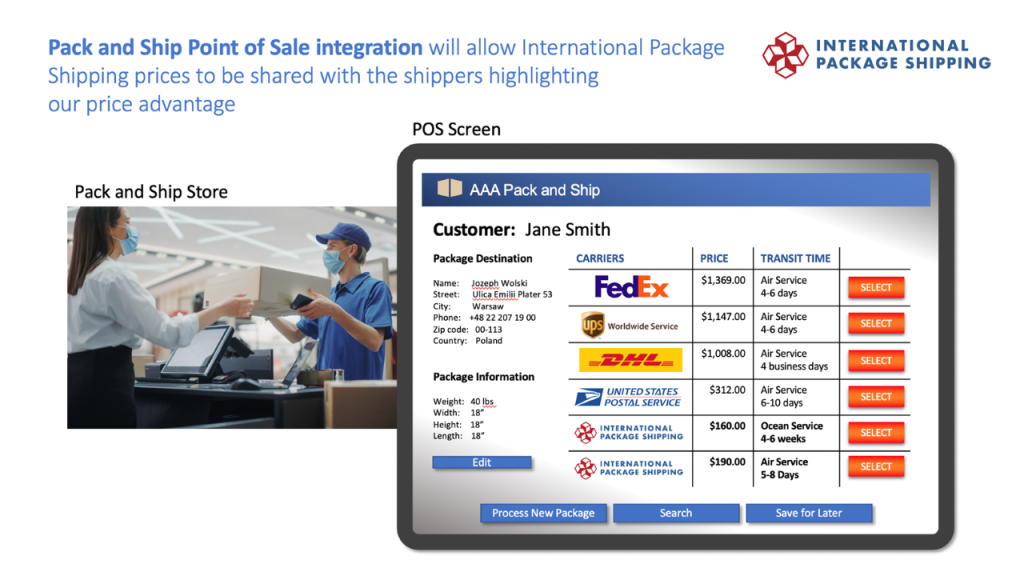 IPO Edge and the Palm Beach Hedge Fund Association will host a webinar with the Chairman & CEO of International Package Shipping (IPS) on Wednesday, May 11 at 2pm ET to introduce a new investment opportunity unique in the Logistics Industry. IPS now seeks to raise $5 million, up from a prior target of $3 million. The live event will feature IPS Chairman and CEO Ernest Jacquet, joined by IPO Edge Editor-in-Chief John Jannarone and Director of Research Alan Hatfield in a moderated video session lasting approximately 60 minutes and including a Q&A with the audience.
To register, CLICK HERE
About International Package Shipping
As seen in the POS Terminal above, IPS is the low-cost provider shipping packages to Europe and Asia at a fraction of the cost of FedEx, UPS, and DHL ("The Big Three").
IPS was founded in 2017 by merging three 35+year-old consumer-to-consumer goods shippers. The company is owned by management and Private Equity investor, Ernest Jacquet, who Co-founded Parthenon Capital based on his personal track record returning more than 4x cash-on-cash to LP's. Mr. Jacquet focuses on small companies and was an Early-Stage personal investor in KEURIG COFFEE.
IPS is a qualified SDVOSB (Service-Disabled Veteran Owned Small Business) under Title 13-part 125 Subpart B of the Code of Federal Regulations. IPS intends to pursue government contracts to provide shipping services to the US military, including those stationed in Eastern Europe.
The company now ships large items to 46 countries including recent expansion into Asia. IPS also ships small packages (less than 66 pounds) to 181 countries from four warehouses on the East Coast, West Coast and Florida.
IPS is expanding the number of its Authorized Shipping Outlets (ASO) from 280 to 3,780 ASOs.
IPS has also negotiated a very aggressive UPS pick-up rate to collect packages at the consumer's homes throughout the U.S. using our E-commerce door-to-door capabilities (www.internationalpackageshipping.com).
In addition, IPS has negotiated with one of The Big Three to provide IPS EXPRESS MAIL ENVELOPES (legal documents) service to Law Firms, Accounting Firms and Corporations for a flat rate of $49 versus $73+ per EXPRESS MAIL ENVELOPE typically paid by small firms to the Big Three.
Mr. Jacquet will discuss:
IPS as the largest consumer-to-consumer deferred package shipping company in the U.S.
IPS as the door-to-door ocean freight provider shipping to Europe and Asia at a fraction of the cost of The Big Three
IPS as the Market Leader of Consumer-to-Consumer deferred package shipping to Eastern Europe
Room for increasing price underneath the pricing umbrella of The Big Three once established
Increased demand that, in conjunction with 5-Year Growth Initiatives, requires $5 million of capital to accommodate increased sales
Use of recapitalization to fund marketing and infrastructure (warehouses, trucks, etc.)
Exit strategy and sale of IPS to strategic partner after 2-3 years
IPS has been in business for 5 years (merging three 35-year-old businesses in 2017) shipping primarily to Poland and 31 Eastern European countries
IPS now ships to 46 European countries and Asia
IPS is the Market Leader in deferred consumer package shipping with 5 times Market Share of nearest competition with 280 Authorized Shipping Outlets (ASO) across the USA
NOTICE: This Webinar is intended for Accredited Investors only, and therefore by replying to the above RSVP you are confirming that you are an Accredited Investor. We reserve the right to decline any RSVP for any reason due to the exclusive nature of this event and SEC regulations.
Contact:
Alan Hatfield, Director of Research
Twitter: @IPOEdge
Instagram: @IPOEdge