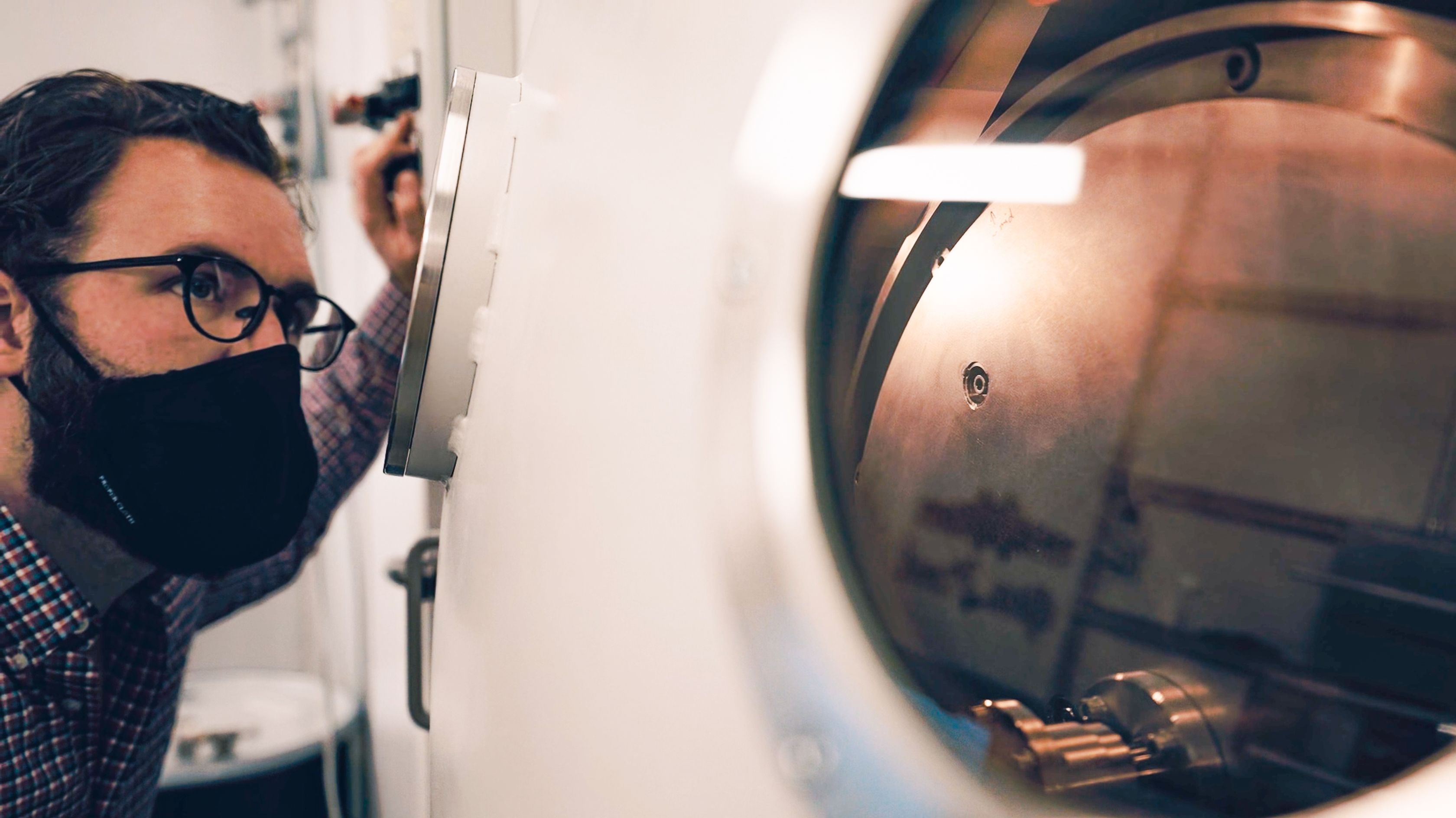 Li-Metal employee using roll-to-roll PVD equipment in Rochester, New York to produce anode materials for next-generation batteries
Li-Metal Corp. (CSE: LIM) produces next-generation lithium for solid-state batteries
Went public in Nov. 2021 in Canada, also trades in U.S. and Germany (OTC: LIMF, FSE: 5ZO)
Makes high energy density lithium anodes which give EVs much more range, performance
Next gen batteries don't have flammable electrolytes, making them much safer
Enterprise value of just C$42 million ($31 million), not reflecting massive opportunity
Inked commercialization deal with Bolloré SE's (Paris: BOL) Blue Solutions
Blue Solutions is largest solid-state lithium battery maker, powers Mercedes-Benz's eCitaro
Expects commercialization in 2025, aligned with major OEM timelines
Recently hired EV industry heavyweight Kunal Phalpher as President
Currently producing anode material under "pilot" program in Rochester, NY
There's an electric vehicle revolution underway that will continue for decades. Perhaps the most critical technology required will be batteries – and they need to get much more powerful to get the industry where it wants to be.
Investors keen to bet on next-generation batteries would be wise to consider Li-Metal Corp. (CSE: LIM), the brains behind the lithium components that make superior power storage possible. The company went public in Canada in November 2021 but the shares also trade in the U.S. (OTC: LIMF) and Germany (FSE: 5ZO).
The key to Li-Metal's technology is a lithium-metal anode, which can offer superior energy density (meaning the storage capacity relative to mass) versus other materials such as graphite and silicon which have been used for many years. That means longer range or more room in EVs, but also a smaller footprint for stationary batteries or more cargo in electric ships.
Equally important is safety. Many next-generation battery designs eliminate flammable electrolytes, which means a dramatic reduction in the risk of fire or explosions. That is critical both for EVs and for new aircraft like eVTOLs which need to be extremely light and, of course, safe while in the air.
Li-Metal has also developed a specialized lithium metal production approach. It takes widely-available lithium carbonate through an environmentally-friendly process to create lithium metal at a far lower cost than other technologies allow. A traditional source – lithium chloride – creates five tons of chlorine gas for every ton of lithium units produced.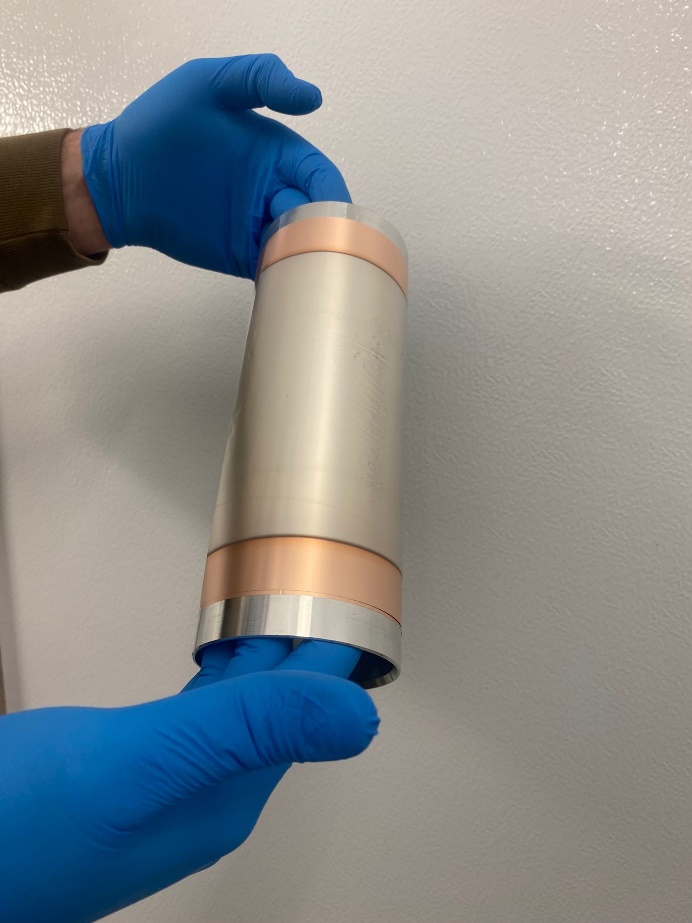 Li-Metal's first lithium metal anode product produced at its facility in Rochester, NY
The move to lithium carbonate dramatically reduces capital expenditures and operating costs associated with cleaning up chlorine. Li-Metal can also derive source material from recycled battery components, another positive step to protect the environment and save costs.
All this appeals to original equipment manufacturers (OEMs) – especially because it translates to better margins. That's critical in the current environment when competition is fierce while capital has also become scarce and expensive, putting OEMs under pressure to make rational cost decisions.
Indeed, the likes of BMW, General Motors, Rivian, Toyota and others have indicated publicly they plan to use solid state batteries. Li-Metals' plans to commercialize in 2025 generally meet the launch timelines of such OEMs, positioning it well to be a supplier.
In a major sign of validation, Li-Metal has signed a development and commercialization deal with Bolloré SE's (Paris: BOL) Blue Solutions, the largest commercial manufacturer of solid-state batteries. Blue Solutions provides Mercedes-Benz with batteries to power its eCitaro buses.
eCitaro Buses are Powered by Blue Solutions
Li-Metal is also in talks with many others. Those include 20 different battery and auto industry companies, of which 12 are sampling materials from Li-Metal.
The company has executed quickly, with sample materials in production at a "pilot" facility in Rochester, NY since January 2022. The facility can produce thousands of meters of lithium anode material annually for internal use or commercial customers.
Last year, Li-Metal produced more than 4,200 meters of sample lithium metal anode material versus 1,000 meters of sample material in 2021. Li-Metal also achieved 70% of commercial-scale production intensity targets. The company believes it operates the highest intensity lithium deposition process of its kind, beating all rivals in terms of efficiency.
The company has strong intellectual property protection in place to protect its lead over any rivals. Li-Metal made 17 patent filings in 2022, for a total of 33 patent applications in process.
A big recent hire was Kunal Phalpher as President a few months ago. Mr. Phalpher brings nearly two decades of global experience in the clean technology, battery materials and electric vehicle (EV) sectors, including his latest role as Chief Strategy Officer at Li-Cycle, a a leading lithium-ion battery recycler. He reports to Co-founder and CEO, Maciej Jastrzebski, another industry veteran with extensive experience in development, project engineering, IP protection and commercialization.
Turning to 2023, the company continues to support commercial partners with the provision of sample material with the aim of solidifying commercial production plans. Li-Metal expects to expand production capacity in the short term and eventually deploy anode production capacity at customer sites.
Li-Metal's lithium metal pilot facility in Markham, Ontario
As the company approaches commercialization in the next couple of years, there's likely scope to find partners who can help fund some production expenses. That would allow Li-Metal to remain capital light and avoid any strains on its balance sheet.
Savvy investors should see serious value in Li-Metal shares. The company has an enterprise valuation, adjusted for cash, of C$42 million ($31 million). That looks low compared with the tens of billions in industrywide solid state battery sales that should come in just a few years. Indeed, other players command lofty valuations, including QuantumScape Corp. at 16 times 2026 sales, according to Sentieo, an AI-enabled research platform.
In the current market, there are countless ways to invest in electrification. But with proprietary technology, seasoned leadership and a head start over rivals, investors should see the luster in Li-Metal.
Contact:
IPO Edge
www.IPO-Edge.com
Editor@IPO-Edge.com