GoTab, Inc. is a private contactless ordering and payment platform
Restaurants, hotels and sporting venues ripe for technology adoption
Serves more than 500 large & mid-sized full-service food & beverage establishments in almost 30 states
Set to process $1 billion in gross merchandise value in 2022
Customers include Topgolf, Ruth's Chris, Barcelona Wine Bar, Hilton, Marriott, Hyatt, Santa Anita Park, Maui Brewing Company, Stone Brewing
Partnership with Mastercard Inc. provides competitive edge
Led by Co-Founder & CEO Tim McLaughlin, e-commerce entrepreneur who started his first restaurant and brewery in 2015
Millennials and Gen Z prefer QR codes over human servers
GoTab has minimal cash burn rate and has already demonstrated profitability
By Jarrett Banks and John Jannarone
Food service everywhere from restaurants to sports venues is undergoing a digital transformation, sparking a technology investment cycle favoring companies that provide point-of-sale (POS) software and services. Smart investors should identify industry all stars before the rest of the world takes notice.
Meet Arlington, Va.-based GoTab, a private company providing a platform that allows customers to scan a QR code at their table causing a menu to appear on their phones, from which they can not only order but also pay. And because it's cloud-based, guests can order and pay directly from their smartphones without having to download an app or create a password.
GoTab services venues ranging from 80,000-seat racetracks and big brewery chains to independent restaurants. Started as a contactless ordering payment web service in 2016, GoTab deployed QR code ordering capabilities before the pandemic to help breweries eliminate long lines and improve service at crowded bars, operate large spaces with limited staff, turn tables faster, raise check averages and ultimately raise revenue.
Pandemic-led closings naturally forced restaurants to adapt and spend to serve the digital on-demand economy as delivery and takeout became the norm. But as reopenings make on-premise dining one of 2022's fastest-growing segments, restaurants continue to invest in technology to compete.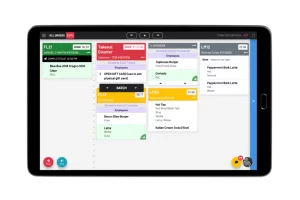 Restaurant operators are in a technology arms race to gain market share and manage rising costs. A better front-end experience for ordering, payment, pickup and delivery, integrated with back-end systems that better manage e-commerce, staffing, suppliers, inventory and data decisioning, are the new tools of choice. GoTab provides these in a fast, flexible and affordable cloud-based solution.
Indeed, digital menus are becoming more common. Half of full-service restaurants nationwide added digital menus last year, and 40 percent of all food businesses added contactless or mobile payment, according to the National Restaurant Association.
The digital technology increases restaurants' efficiency and accuracy, freeing staff members up to focus on the more human elements of hospitality. It could also make help restaurants hire fewer base-level workers and direct dollars toward projects with a higher return on investment.
There's a good reason why clients stick with GoTab: financial performance. The average client sees an increase of 28% in sales while operating costs fall as much as 14%. Much of the latter is due to better allocation of staff, who can spend more time on important work.
The upshot can be a dramatic boost to the bottom line. A typical restaurant has a fairly thin margin of around 5%, so sharp changes in revenue and costs can cause total profits to multiply.
GoTab is not only able to help its clients but reward investors. The company was profitable in 2020, according to a person familiar with the matter, but elected to invest in growth since then. GoTab is on track to return to profitability in 2023 the person said, noting, however, that it may elect to pursue investments in growth if the opportunity is appealing.
Tim McLaughlin, the co-founder of GoTab, is a successful entrepreneur who sold his e-commerce company Siteworx, for $50 million. He then started his first restaurant and brewery in 2015 where he noticed areas to improve operationally with tech. The idea of GoTab was originally conceived because people couldn't get a table at Mr. McLaughlin's restaurant.
Recently, GoTab has unveiled new capabilities that let "multi-operator locations" automate vendor payouts and streamline ordering. This gives vendors individualized control of menu management and reporting — along with direct payouts, including taxes and tips — on a daily basis.
A big competitive advantage is GoTab's partnership with Mastercard, which eliminates the need to manually enter card details at hospitality venues. Dubbed Click to Pay, the tool simplifies checkout and makes it safer to check out online without having to recall passwords or enter card details. The company recently introduced it at a number of Stone Brewing locations in California and Virginia and plans to bring it to all GoTab-operated venues.
GoTab's in-depth sales tracking allows restaurants and breweries to track and compare sales in specific areas at any specific time of the day. It also allows them to know which customers are walking in—something that was a 90% mystery previously. By having the same level of knowledge about customers in the physical world as they do online, restaurants can make informed decisions about everything from menu items to décor.
The company is aggressively pursuing new and larger restaurants while digital demand is high, and driving cross-sales into the existing base. Payment volume growth is as strong as the return to indoor dining –  and has an even brighter future. GoTab is an ideal way to ride that trend and should whet the appetites of savvy investors.
Contact:
IPO-Edge.com
Editor@IPO-Edge.com
Instagram: @ipoedge
Twitter: @ipoedge