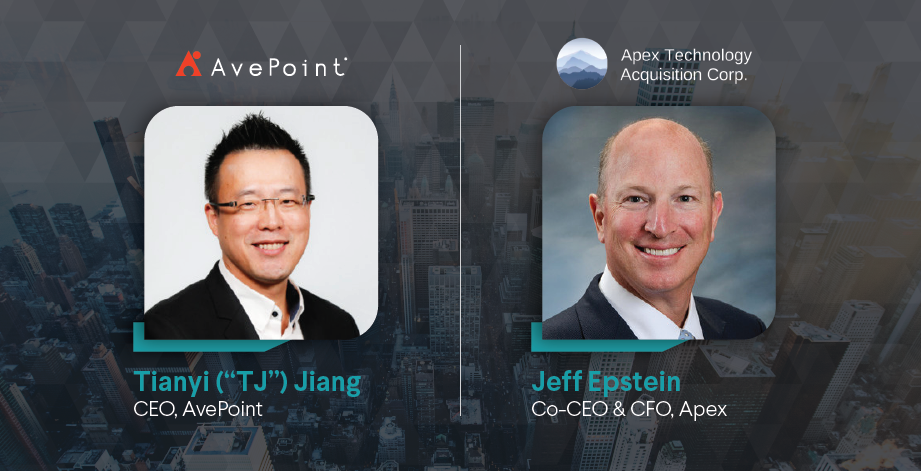 IPO Edge and The Palm Beach Hedge Fund Association hosted a fireside chat with the CEOs of Apex Technology Acquisition (NASDAQ: APXT) and AvePoint on Tuesday, June 15 at 12pm EDT to discuss the companies' business combination, underlying fundamentals, and upcoming shareholder vote. The live event featured Apex CEO Jeff Epstein and AvePoint CEO TJ Jiang, joined by IPO Edge Editor-in-Chief John Jannarone. The moderated video session ran approximately 60 minutes including a Q&A with the audience.
Apex stockholders who need assistance voting ahead of the June 30 deadline, have questions regarding the Special Meeting, or would like to request documents may visit http://voteapxt.com or contact Apex Technology Acquisition Corp, 533 Airport Boulevard, Suite 400, Burlingame, CA 94010, by telephone at (619) 736-6855 or by email at investors@apexacquisitioncorp.com, or Apex's proxy solicitor, MacKenzie Partners, Inc., 1407 Broadway, 27th Floor, New York, New York 10018, by telephone at (800) 322-2885 (for individuals) or (212) 929-5500 (for banks and brokerages) or by email at proxy@mackenziepartners.com.
Messrs. Epstein and Jiang discussed:
An overview of the business combination and investment highlights
The supportive fundamentals driving digital workplace, collaboration security and demand for cloud technologies such as Microsoft 365
The evolution of the SPAC market and involvement of more individual investors
Why it is important for all record date shareholders to vote, regardless of how many shares they own
How investors vote shares through their brokers
About the Speakers:
Jeff Epstein is the Co-CEO of Apex Technology Acquisition (NASDAQ:APXT). From 2008 to 2011, Mr. Epstein was executive vice president and chief financial officer of Oracle Corporation (NYSE:ORCL), a global technology company. Prior to joining Oracle, he served as chief financial officer of several public and private companies, including DoubleClick (sold to Google), King World Productions (sold to CBS) and Nielsen's Media Measurement and Information Group. Earlier in his career, he was an investment banker at The First Boston Corporation. Today Mr. Epstein leads the CFO Advisory Board at Bessemer where more than 100 portfolio company CFOs meet in person and online to help each other improve their effectiveness. Mr. Epstein specializes in marketplaces and B2B software companies and co-teaches the Lean Launchpad class at Stanford University's Graduate School of Engineering. Within the last five years he has served on the boards of directors of Kaiser Permanente, a non-profit healthcare company, Booking Holdings (NASDAQ:BKNG), an online provider of travel services, Twilio (NYSE:TWLO), a cloud communications platform, Shutterstock (NYSE:SSTK), a stock photography and stock footage provider, and several private companies. Mr. Epstein holds an MBA from the Stanford University Graduate School of Business, and a BA from Yale College.
Dr. Tianyi (TJ) Jiang is the CEO and co-founder of AvePoint. He is one of the main architects in guiding AvePoint's evolution from a SharePoint infrastructure tools company to the largest data management solutions provider for Microsoft 365 enabling organizations to collaborate with confidence. A recipient of Ernst & Young's Entrepreneur of the Year award in New Jersey in 2010, Dr. Jiang received both a B.S. and Masters in electrical and computer engineering from Cornell University, and a Master of Philosophy and PhD in data mining from Stern School of Business, at New York University. Prior to co-founding AvePoint, TJ's career focus was on designing and implementing fix-income trading systems, global equity program trading platforms, credit risk modeling, and conducting research in Data Mining.
Contact: 
John Jannarone, Editor-in-Chief 
editor@IPO-Edge.com 
Twitter: @IPOEdge