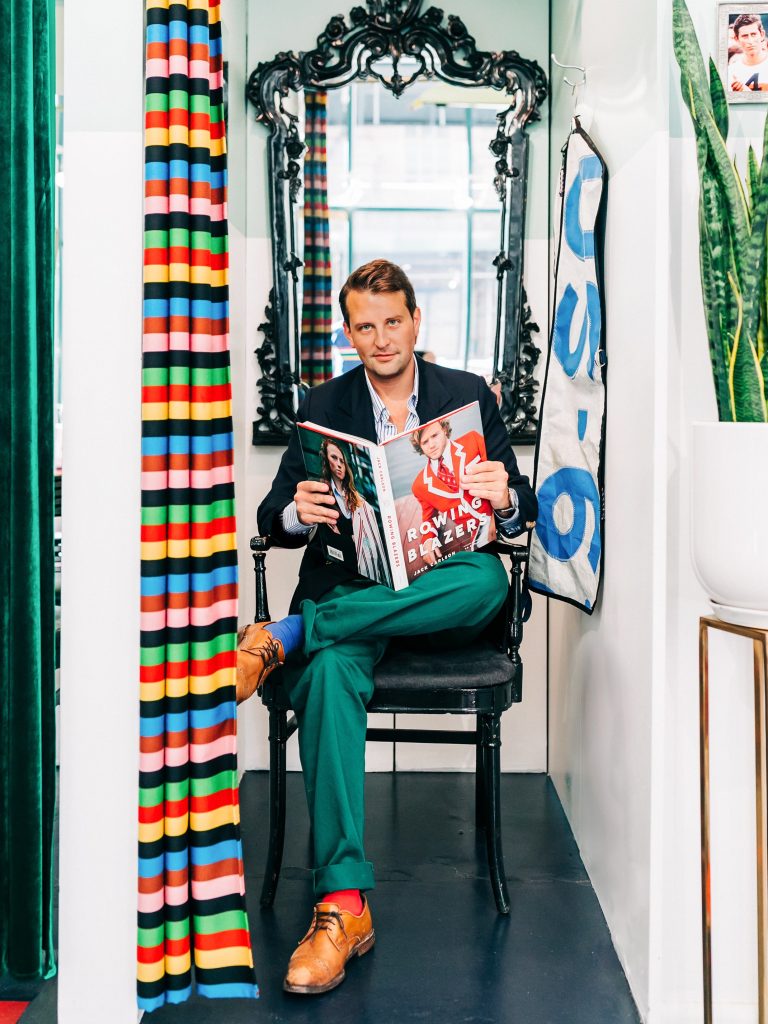 IPO Edge Interviews Rowing Blazers Founder Jack Carlson about May 1 Flagship Opening
From firmly-established public companies like Lululemon to upcoming IPOs like Hylete, the recent focus for apparel retailers is unquestionably on digital sales growth. That doesn't mean a company should ignore a good old-fashioned physical location.
Just ask Jack Carlson, Founder and Creative Director of Rowing Blazers, which plans to officially open its first permanent location in Manhattan's Soho neighborhood on May 1. The company, which draws on a preppie aesthetic partly inspired by traditional blazers worn by crew teams, does most sales online. While it has had "popup" locations in the past, this week marks the first time it's opening with no plans to close.
A key reason for the brick-and-mortar commitment: To boost online sales.
"We have seen our online sales spike when we open a popup location," Mr. Carlson said in an interview with IPO Edge. "And online sales actually slowed when a store wasn't open."
Those trends may be surprising. After all, if customers are shopping in a store, they would presumably have less money to spend online. But Mr. Carlson says the marketing power of an in-store experience is stronger than he first expected.
"I never thought we would have a physical store, but we've realized that even if we're doing no in-store sales, it would be worth it," Mr. Carlson said. "It's like a billboard but better."
That decision may also have been tough given the high retail rents in trendy Manhattan shopping areas. In fact, many stores in areas such as Bleecker Street in the West Village were – until very recently – left empty because landlords asked for more than any retailer can justify. But gradually, a flock of digitally-native brands have replaced the likes of Marc Jacobs and Brunello Cucinelli in that neighborhood – just across town from Mr. Carlson.
The Rowing Blazers Soho location, dubbed its "Clubhouse," has already served as a popup store adorned with many items outside of the sphere of apparel, including rare books and other vintage items. Mr. Carlson said such items aren't necessarily designed to be sold for profit but are there because shoppers enjoy them.
How else does Rowing Blazers reach its audience? It does employ select digital marketing campaigns, including a recent Instagram announcement for Wall Street-inspired items including a Pierce and Pierce duffel bag inspired by characters in Bonfire of the Vanities and American Psycho.
But Mr. Carlson believes that natural discovery can drive growth. "Word of mouth means more than an ad," he said. "And it's way better for someone to walk past the store and decide to come inside."
He said many customers actually have visited popups without making purchases, but instead taken photos that wound up being shared with friends or put on social media accounts. "It's not easy to measure something like that but you can see it very clearly," he said.
He said celebrity exposure has helped as well. For instance, a Rowing Blazers employee recently noticed the popular musical artist Macklemore – who has millions of Instagram followers –wearing some of the company's apparel. It turned out that he was simply a customer who had made purchases at full price.
Similarly, Will Ferrell has been seen in the company's clothes. The story there was that Mr. Ferrell's former college roommate at USC was a customer and introduced him to the brand.
It remains to be seen how Rowing Blazers will approach physical stores as it grows. Hylete, an athleisure company which posted $12 million of revenue in 2018, doesn't have any physical locations and has announced no plans for them. Lululemon, by contrast, has hundreds of stores, but expects digital sales to double by 2023 – outpacing physical store sales growth.
Where could Rowing Blazers go next? Mr. Carlson says Japan is by bar its largest overseas market, and it generally gets exposure there through wholesale – something it doesn't do much in the U.S. "I would bet it may not be too long before there's a Rowing Blazers Tokyo," he said.
Contact:
John Jannarone, Editor-in-Chief
Twitter: @IPOEdge
Instagram: @IPOEdge