Pet services marketplace Wag Labs, Inc. merging with CHW Acquisition Corp. (NASDAQ: CHWA)
Provides mobile-first platform for on-demand/scheduled dog walking, training, pet care services
Now available in 5,200+ cities with 400,000+ pet caregivers covering 95%+ of the US population
Smart return-to-work play as employees need pet care while away from home
Already far exceeding pre-pandemic run rate revenue
Company soon to report fourth quarter results, will show latest phase of return-to-work
KPIs have improved dramatically since CEO Garrett Smallwood arrived in 2020
Gross profit margin has risen to an impressive 90%
Sees long-term revenue growth of 40%+ and Ebitda margin of 10%+
Forecast to become Ebitda positive during 2024
Priced at 4.9 times 2023 sales, well below comps Etsy, Airbnb, Match
Americans who juggle work, play and pets can be in a difficult position. Now, a fast-growing tech company offers a one-stop shop to keep our furry friends safe and happy – all within a convenient app.
Meets Wag Labs, Inc., a mobile-first platform that provides dog walking, training and various other pet care services. Wag is going public through a merger with CHW Acquisition Corp. (NASDAQ: CHWA), a SPAC that raised money to find a target. Once the deal closes, CHW shares will automatically convert to Wag shares and trade under the "PET" ticker.
Wag's core offering is a pet walking service that has become extremely popular thanks to its convenience, price and safety. The company does extensive background checks on pet walkers and a typical half-hour walk costs just $20.
Once Wag customers get comfortable with walks, the company has a massive opportunity to provide more offerings. Additional services include cheaper options like $15 short visits and more expensive services like $60 one-hour training sessions.
Indeed, 20% of customers use at least two of Wag's service offerings. That's a strong indication that the model is working and customers truly feel their pets are in good hands.
Wag has expanded even further, to pet insurance and medical consultations. In the future, there's ample scope to go into other lucrative categories such as food, toys and even medicine.
Wag commands an extensive reach across the country. The company just reported an even larger footprint, including more than 5,200 cities, over 400,000 pet caregivers and the ability to serve more than 95% of the U.S. population.
The most important near-term catalyst is the gradual return-to-work movement happening gradually cross the country. Wag has already seen run-rate revenue return to levels before the COVID crisis. And in the third quarter, the company's weekly booking rate was a full 20% above pre-pandemic levels.
Investors should keep a close eye on the company's fourth-quarter results, expected soon. Those may reflect yet another boost as more Americans returned to normal work habits and had to leave pets at home for extended periods.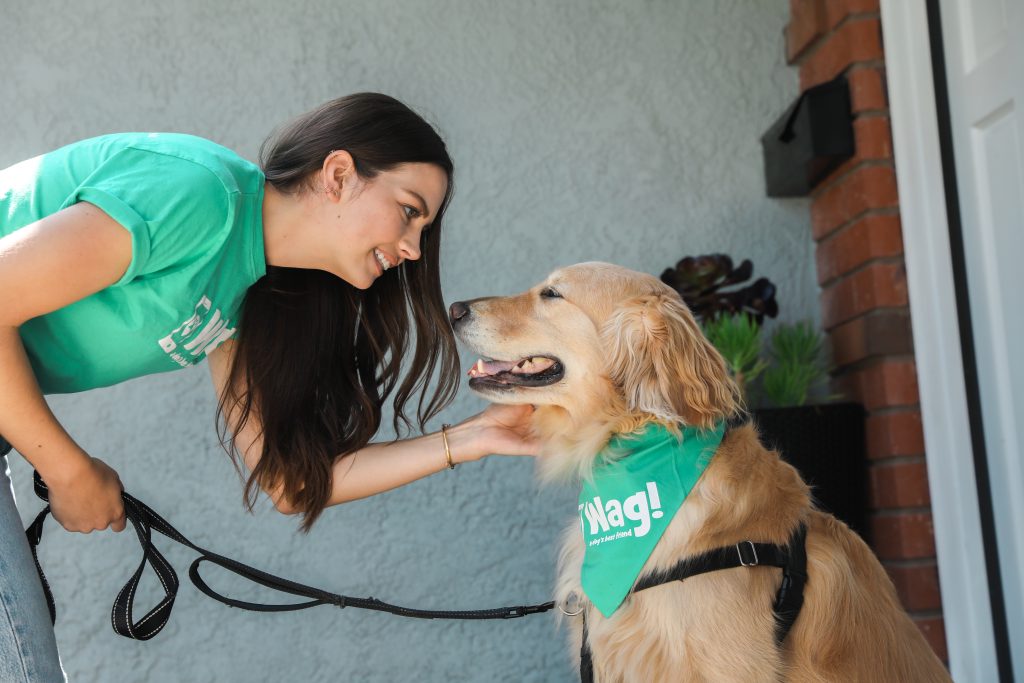 The pet industry as a whole has ballooned over the last couple of decades and shows no sign of slowing down. Industry sales have grown from $28.5 billion in 2001 to $110 billion in 2021, according to The American Pet Product Association.
Somewhat surprisingly, Wag is introducing many people to dog walkers for the first time. The company says 90% of its customers had never actually hired a dog walker prior to joining the platform. And once customers start they become frequent users: The average member of the 2021 cohort uses the services five times a month.
What's more, 20% of customers are on "set and forget" recurring services such as a dog walk every Monday, Wednesday and Friday. That repeat revenue stream should be seen as especially valuable to investors.
The figures are even more impressive for members of Wag's premium service, which includes discounts and various perks in exchange for a $9.99 monthly fee. Some 40% of premium users purchase at least two types of services and purchase Wag services 7-8 times monthly.
The business has already gotten much stronger under the leadership of CEO Garrett Smallwood, who took the helm in 2020. Thanks to initiatives including data optimization and the premium offering, the company's take rate (percentage of each transaction that goes to Wag) has risen to 37% from just 16% at the beginning of 2019. As a result, Wag's gross margin has also edged up, currently standing at an impressive 90%.
Mr. Smallwood also rightsized the company's staff during the pandemic to position it for recovery. Under previous management installed by Masayoshi Son's SoftBank Vision Fund, Wag had more than four times the number of employees. But under new management, the company has 75 employees, indicating more than $350,000 in revenue per employee.
In the long run, Wag expects revenue to grow at a rate of at least 40%. And profits are just around the corner, with a forecast for positive Ebitda in the second quarter of 2024.
The SPAC deal should leave Wag with a healthy balance sheet, clearing the way for strategic M&A. Last year, the company bought a pet insurance business and a pet wellness platform. There are other potential areas of interest such as high-quality pet food, which would be a natural complement to Wag's service offerings.
The deal also clears the way for Wag to consider international expansion. Having grown across the U.S. with great success, there is likely opportunity to replicate the model in new markets with only modest adjustments.
Turning to valuation, Wags has been priced at a reasonable 4.9 times 2023 forecast revenue. That's below the best comparable company multiples: Airbnb trades at 8.2 times, Match Group at 6.8 times and Etsy at 5.6 times, according to Sentieo, an AI-enabled research platform.
These days, Americans truly treat pets like members of their families. Investors seeking to bet on that trend – and the technology to make it possible – should consider making Wag the next addition to their portfolios.
Data provided by Sentieo.
Contact:
IPO Edge
www.ipo-edge.com
Twitter: @ipoedge
Instagram: @ipoedge