Shares of Dutch Bros Inc (NYSE: BROS) surged 41% in opening trade Wednesday after pricing at $23 apiece, far above the indicative $18-$20 range as investors bid up shares of the Oregon-based coffee chain.
The company, which refers to its servers fraternally as "broistas" rather than baristas, has a three-decade track record, is highly profitable, and commands a dedicated following among customers who drink coffee and an array of other beverages from its drive-through shops. But it stands out in another regard that few other brick-and-mortar retailer do: It powered straight through Covid without missing a beat.
"We didn't need to shift the model," President and Chief Executive Officer Joth Ricci told IPO Edge in an interview Wednesday. "We are 100% drive-through and didn't close a single shop. We followed the rules and removed all friction between staff and customers."
Indeed, the company has posted 14 years of positive same-shop sales, reflecting resilient not only through Covid but also other economic setbacks like the 2008 crisis. That has fueled impressive profit growth, with adjusted EBITDA rising from $39.6 million in 2018 to $69.8 million in 2020.
Dutch Bros Inc Co-Founder and Executive Chairman Travis Boersma with President and CEO Joth Ricci
Dutch Bros, which started in Oregon and has largely expanded to contiguous states where it has 471 shops, sees a long-term potential for at least 4,000 locations. But that doesn't mean the growth plan will become overly aggressive following the IPO.
"We are not accelerating growth because of the IPO but staying disciplined," Mr. Ricci said.
One part of the company's strategy is to grow into adjacent physical locations rather than tackle the whole country at once. Mr. Ricci said that the strategy makes sense both because of customer awareness and the ability to keep close tabs on its supply chain.
Another sign of discipline: Dutch Bros aims to focus on what works, rather than expand right away into new categories like food. While Starbucks has made steps toward hot meals, the company has had missteps over the years and largely reheats simple items that appeal to people on the go.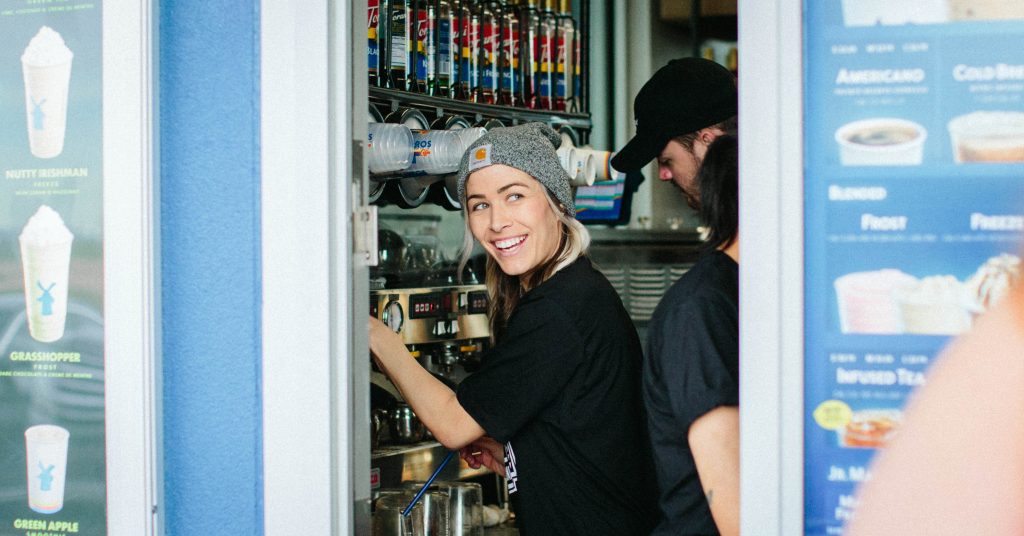 A "broista" prepares at drink at a Dutch Bros shop
It is difficult to find a suitable public company to compare directly with Dutch Bros, given its laser focus on beverages. Starbucks is at a much more mature stage of its growth so better comparisons may be the likes of Shake Shack Inc. or Chipotle Mexican Grill, Inc. – which of course are different because they serve food.
Dutch Bros has shown a consistent dedication to sustainability. In a rare and perhaps unprecedented move, the company has pledged to give 1% of the IPO proceeds to charity in coming years.
"Social impact has been part of this company's identity since day one," Mr. Ricci said. "We've been ESG focused for 30 years – we just called it social impact."
While the company works with franchisees, since 2008 it has only worked with those who were already in the system. Co-Founder and Executive Chairman Travis Boersma, who started the company with his late brother Dane, has said that decision was key to driving sustained expansion in the following years.
While some parts of the country have returned to normal in-person business activity, Wall Street has embraced virtual meetings. Mr. Ricci mentioned that the Dutch Bros IPO roadshow was done entirely virtually with investors in cities all over the map. "We did 43 meetings in a week," he said. "I didn't need to meet anyone in person but at this stage of the pandemic, everyone is gotten good at it."
Contact:
John Jannarone, Editor-in-Chief
editor@IPO-Edge.com
Twitter: @IPOEdge