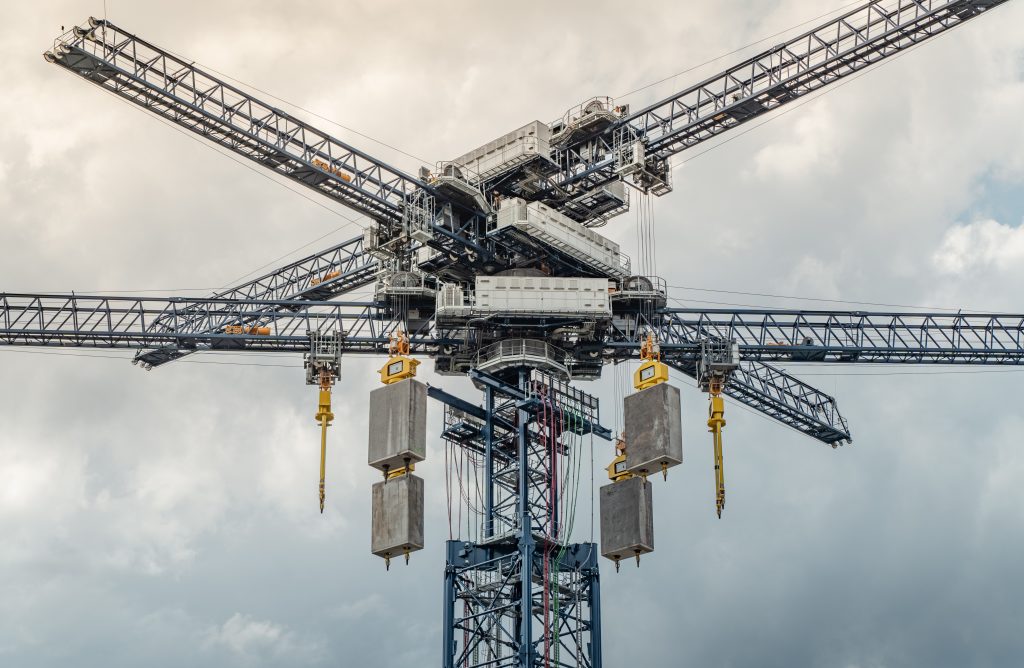 Energy Vault to go public via merger with Novus Capital Corp. II [NYSE: NXU]
Energy Vault provides large-scale energy storage with innovative gravity tech
System transfers solar or wind power into potential energy that becomes kinetic energy
Gravity-based power storage is even greener than lithium batteries
Energy Vault preserves nearly as much power as battery storage with "round trip efficiency"
Systems already deployed with success in Switzerland's national power grid
Company extremely well capitalized after $100 million Series C in 2021, up to $388 million in SPAC deal
Transaction provides ample proceeds to fund operations until becoming cash-flow positive
Very few competitors with similar scale and efficiency at large industrial level
361 customer engagements including Saudi Aramco, De Beers, Hewlett Packard
Revenue forecast to rise to $2.8 billion in 2025 from $148 million in 2022
Priced at just 3.1x 2024 Ebitda, sharply below peer group valuations
Green energy just got even greener – and investors have a fresh opportunity to capitalize on the innovation.
It's time to get plugged into Energy Vault, a fast-growing power-storage company that's going public through a merger with Novus Capital Corp. II [NYSE: NXU]. Investors who buy Novus shares now will see them automatically convert to Energy Vault shares after the SPAC merger is completed.
To understand Energy Vault's great potential, it's first important to grasp why energy storage is so critical. Governments and corporations continue to make pledges to reduce carbon emissions while embracing renewable sources like wind and solar. But those sources present a problem known as intermittency: Sunshine isn't always available and breezes come and go.
That creates a need for storage, which often takes the form of lithium ion batteries. But those batteries come with potential environmental and social consequences. Batteries that aren't recycled can leak pollutants and the metals required to make them are sometimes mined in dangerous locations where workers are mistreated.
Energy Vault is an elegant solution to those problems. At its core, the technology relies on basic physics, using pulleys to raise extremely heavy bricks up vertically. That creates potential energy that can convert to kinetic energy, which is then fed into a power grid or another major facility. The technology also includes proprietary software and is protected by multiple confirmed patents with many more pending.
Energy Vault Resiliency Center from Energy Vault Private on Vimeo.
The list of Energy Vault's green advantages goes on. The systems can be constructed locally, eliminating transport emissions. The bricks that hold potential energy can be made from soil or waste materials like coal ash and retired wind blades.
Energy Vault's technology is also a cheaper way to store power on a large scale than lithium batteries. The company estimates its technology costs 60% of a lithium alternative and by 2025 will be just 51%.
The systems are also designed for a much longer charge duration – several hours – that is needed for utility-scale energy storage.  Lithium batteries aren't usually suited for that purpose and very few other players can provide it, making Energy Vault a standout.
Even when it comes to efficiency, Energy Vault is highly competitive. Its so-called round trip efficiency, which reflects how much of the stored energy is preserved through a charge, measures 83%-85%. Lithium is just a whisker higher at 87%-89%.
Energy Vault's technology is fully developed and ready to be deployed. Last year, the company successfully integrated a system into Switzerland's national power grid, a strong proof point.
The list of potential customers is long and impressive. The company says its pipeline of $32 billion includes over 361 customer engagements, including major players such as Saudi Aramco, Hewlett Packard and De Beers. Those companies need Energy Vault for a variety of uses including industrial facilities and large data processing centers.
All this adds up to an impressive financial profile. The company expects revenue to rise to $2.8 billion in 2025 from $148 million in 2022, with an Ebitda margin rising to 24%.
Importantly, the company has minimal risk of needing additional capital to reach profitability. Energy Vault completed a $100 million Series C round earlier this year and the SPAC transaction will generate up to $388 million including a $100 million PIPE.
Looking ahead, the company's capital expenditures are limited, in part because customers can fund projects. While Energy Vault can make equity project co-investments, it does so at its option.
The company also boasts an impressive leadership team. Co-Founder and CEO Robert Piconi has had senior roles at major companies such as Danaher, Amoco and BP while Co-Founder and CTO Andrea Pedretti is an engineer with extensive experience in renewable energy technology.
The board of directors also includes Bill Gross, Co-Founder and Director of Idealab, a leading technology incubator he started in the 1990s. Mr. Gross is the CEO of Heliogen, another renewable energy tech company that's in the process of going public. Heliogen and Energy Vault provide complementary technologies, so Mr. Gross potentially can potentially facilitate new business introductions.
Energy Vault has a serious roster of investors – all of which are keeping their stakes in the company through the SPAC transaction. Those include Cemex Ventures, Masayoshi Son's SoftBank, Saudi Aramco Energy Ventures and Mr. Gross's Idealab.
Turning to valuation, the deal has been priced very conservatively, giving new investors plenty of upside opportunity. At around $10 a share, the stock trades at an implied enterprise value of 3.1 times 2024 Ebitda. By comparison, Stem trades at 13.2 times, Tesla at 44 times and ChargePoint at 211 times, according to Sentieo, an AI-enabled research platform.
There are plenty of renewable energy investments available these days. But given Energy Vault's green credentials, cost effectiveness, and strong financial profile, investors should lock down some shares while they're priced right.
Contact:
John Jannarone, Editor-in-Chief
editor@ipo-edge.com
Twitter: @IPOEdge
Instagram: @IPOEdge